ABOUT
RAVIDRUMS has created a new musical revolution.
Disruptor: The future of Electronic Music Artists
Ravi Jakhotia also known by his stage name DJ Ravidrums, a music producer, an electronic music artist DJ and drummer. He was the music director and drummer on the 2009 NBC TV series "Howie Do It" and 2011 CBS TV series "Live to Dance". He performed at the Oscars in 2009 for "Slumdog Millionaire", at the Mariah Carey Infinity Las Vegas show as a special guest in 2015, Coachella, Super Bowl pre-game shows throughout the years, including this years' Super Bowl XL in Tampa.
Musician | Actor | Creator | Celebrity Travel Host
Inventor of & World-renowned for groundbreaking musical concept of combining remixes with live percussion.
Collaborations with Quincy Jones, Slash, Oprah Winfrey, DJ Vice, DJ AM, Paula Abdul.
Drummer for three major progressive metal bands.
The first Indian American Music Director of an American Television Series.
Music Director & Drummer on the NBC Series "Howie Do It" with Howie Mandel.
Appeared alongside Lawrence Fishburne in "The Matrix Reloaded".
Paula Abdul's Musical Director & Drummer for the CBS Series "Live to Dance".
THE DREAM SCREEN
He has taken DJ'ing to a whole new experience by adding live drum & percussion Re-mixes on the spot. Ravi's custom NASA-designed drum rig and dream screen is groundbreaking technology: With pulsating LED lights, sophisticated hardware made of state-of-the-art plastics and aluminum, and a one-of-a-kind glass mixing console dubbed the "Dream Screen", Ravi Drums has created a Drum & DJ performance for global performance and the new millennium.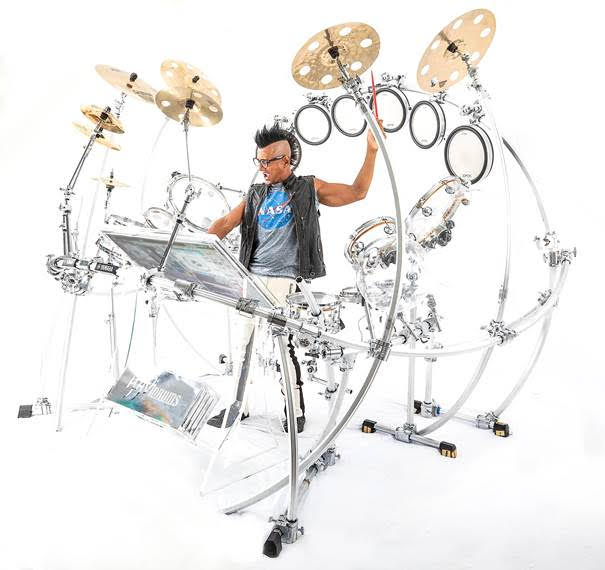 Sought after the world over, DJ Ravi has performed at private VIP events for Michael Jordan, Nike, HBO, Access Hollywood, Symantec, Diesel, Louis Vuitton, NIKE, Mercedes Benz, and FOX.
DJ Ravi boasts his own GAP commercial, as well as having a memorable role alongside Lawrence Fishburne in "The Matrix Reloaded".
His client list is unparalleled: Will Smith, Eva Longoria, Mariah Carey, Quentin Tarantino, Elon Musk, Carson Daly, Jessica Simpson, Halle Berry, Benicio Del Toro, Oprah Winfrey and A-listers around the world.
He has brought his energy, enthusiasm, drums & turntables to iconic events: World Cup Soccer, A Presidential Inauguration, Coachella; as well as Fortune 100 and 500 clients Nokia, Microsoft, Macy's, Simon Properties, Nintendo, and Dell.
NAME DROP: DJ Ravi Drums performed as Howie Mandel's sidekick on the hit program "Howie Do It", as well as Paula Abdul's music director for "Live to Dance". In May of 2015, Ravi performed as a featured guest soloist on Mariah Carey's premier Las Vegas residency at Caesar's Palace Las Vegas, and opened for the Foo Fighters in San Francisco's legendary Pier 70. Ravi has collaborated with Quincy Jones, Oprah Winfrey, Paul Oakenfold, DJ Vice, Slash (from Guns & Roses) & DJ AM.
Ravi Drums has performed with music's legendary superstars Will I Am, Mariah Carey, Britney Spears, and headlined events for Elon Musk, Michael Jordan, Apple, Dell, HBO, Royalty, the Prime Minister of India, and President Obama.
His performances over the years on broadcasts as varied as the Superbowl, The Oscars, The Oprah Show, The Bollywood Oscars, Telemundo Awards and The Matrix serve to highlight his sought-after and unique musical and performance capital.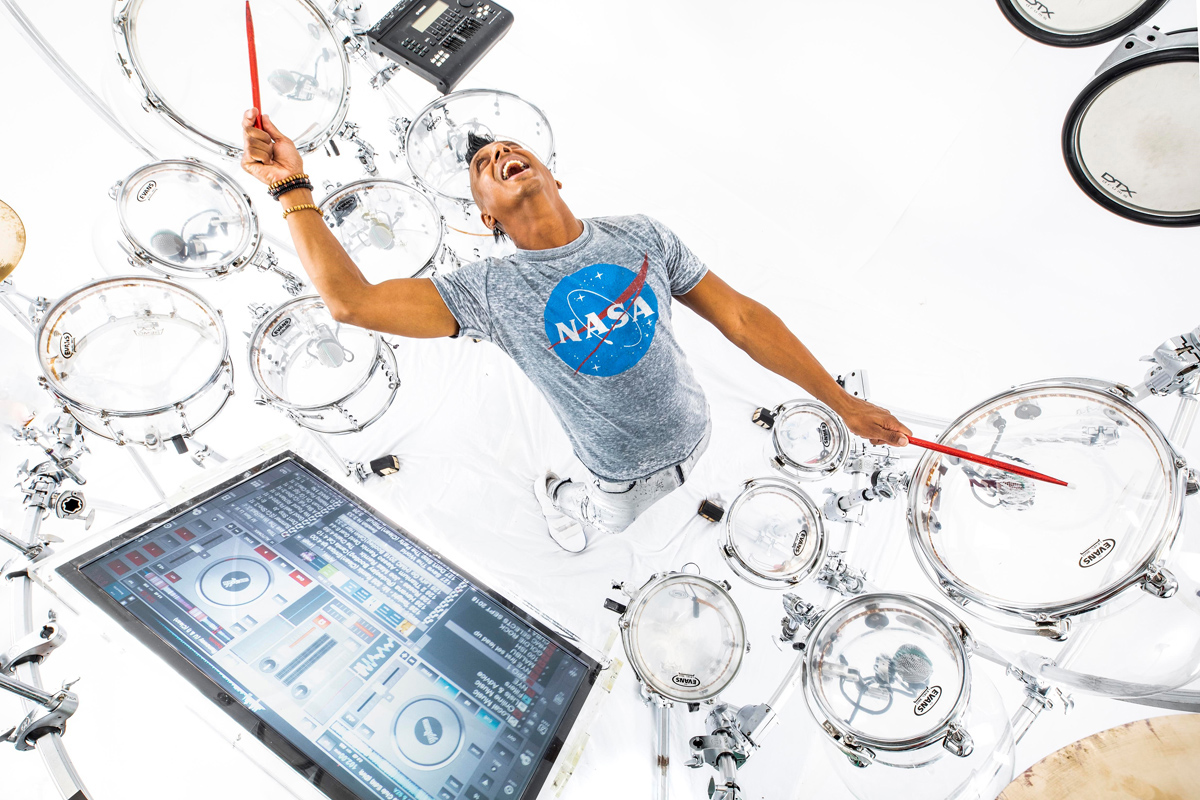 THE STAR DESTROYER
Ravi personally worked with NASA scientists in the development of the Dream Screen Transparent Touch Controller; his inspiration truly was to change the face of electronic music. This unique and groundbreaking use of technology combined with his brand of unstoppable raw energy creates a completely unique experience that continues to capture audiences globally.
THE EXTENDED REALITY MUSICAL EXPERIENCE
CUBA: BEHIND THE SCENES FOR THE MAKING OF "LOOBABA"
Artists' Statement
My artistry takes many forms. There are superlatives…yes. Every initiative I have taken thus far has brought me to where I am in the now: the writing, the performing, the drumming, the television, the award shows, the acting, and most certainly the technical innovation that has revolutionized my drumming.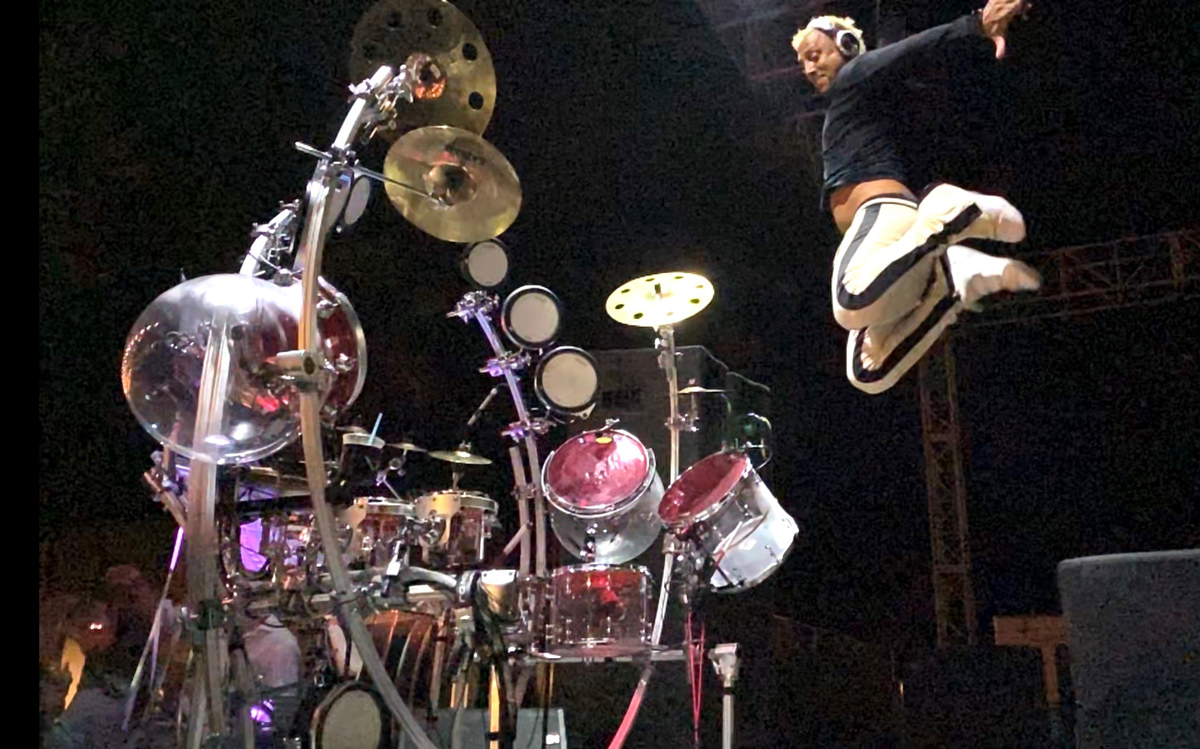 So… to the personal. As the first Indian American Music Director for an American television series, I am proud and moved at the same time.
My heritage is inexorably tied to my music and my journey: leading me to develop my current project "Off the Beaten Track", a streaming series taking viewers around the globe on musical, sporting, culinary and festival adventure at the crossroads where travel, technology, and local flavor collide with ancient cultures.
The episodic adventure and travel series, launching winter 2021 on a major streaming platform is global in scope yet entirely personal: hosted by me and encompassing the totality of me: all filmed on location in Cuba, the Galapagos Islands, on the streets of Hollywood and the behind the scenes of major VIP events like Diddy's Coachella music festival party in California.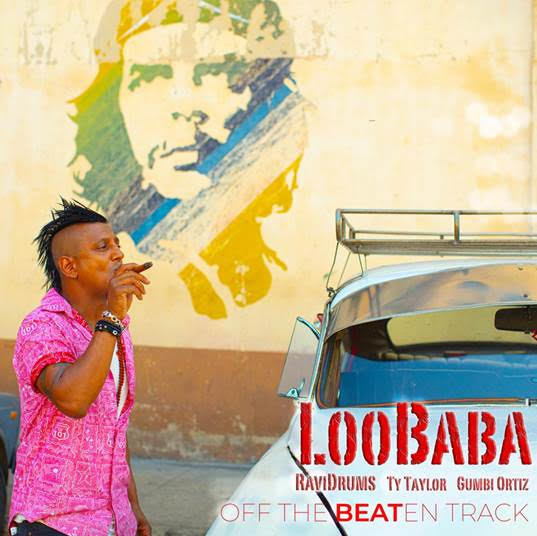 I take my viewers to the prestigious Monte Carlo Grand Prix on board a mega yacht with the Prince and Princess of Monaco. In this music-fueled series, I combine my worlds. Its' a worldwide mission to create unforgettable moments through music, food, culture, and technology and share my world of unique experiences and once- in- a -lifetime opportunities to collaborate with some of the most interesting people around the globe.
After diving into the unique sounds, tastes and experiences of each destination, I take these inspirations and mix it all together into an original, mind-blowing performance for the people to celebrate my time there.